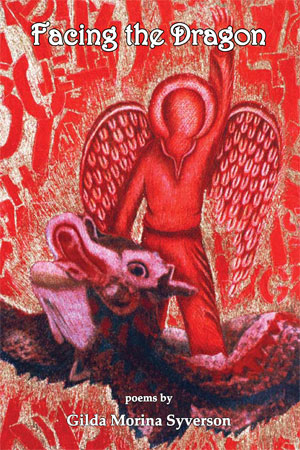 Facing the Dragon – Poems by Gilda Morina Syverson
Order copy at Main Street Rag 
Facing the Dragon poems by Gilda Morina Syverson
 Order copy at Main Street Rag 
 "Beauty," said Gerard Manley Hopkins, "is always almost gone." Gilda Morina Syverson recognizes that fact profoundly in her new book of poems, FACING THE DRAGON.  The dragon, of course, is death, and here in this passionate circle of poems, Syverson thinks of the self, struggling to find an identity, a calling, before it is too late; she thinks of family, especially her Sicilian family, and how they have disappeared into that other world and how they come back to haunt her, how they come back as messengers from that elusive God we search to name. In dreams and conversations with the dead Syverson plumbs for clues to the mystery. Like the juggler in her brilliant final poem, she keeps five balls in the air, which we as readers can then hold in balance in our own imaginations.
                                                                          —Anthony S. Abbott
  Read Gilda Syverson's Facing the Dragon and you will know the rigorous pull of this circus we call family, how it frames our identity, how it hurls us back in time to the land of our forefathers — in this case Sicily — where loved ones "moved together up and down / hills, over the bridge from old town / to new, walked arm in arm…" the way this poet walks so engagingly arm in arm with dream, with memory, with loss, with fear, with those she's  loved, living and dead. 
                                                                          —Dannye Romine Powell
Readers will discover many fine things in Gilda Morina Syverson's Facing the Dragon, including the loving evocations of Italian American family life in the book's second section. But the third and final section is worth the price of admission all by itself: here, in poignant detail and with unfailing compassion, she presents an accumulating montage of death and mourning which becomes, in its refusal of all false and easy consolations, an affirmation of life and the will to endure.
                                                                          —Michael Palma